Donald Trump Net Worth Reaches $3.1 Billion: Trump News
Donald Trump Net Worth and his assets
Since departing from the White House in 2021, Donald Trump's wealth has surged by $500 million, bringing his current net worth to $3.1 billion, as reported by the Bloomberg Billionaires Index.
As Donald Trump faces a trial in New York, accused of exaggerating his wealth by billions of dollars over more than a decade, the ongoing relevance of his net worth is evident. Contrary to expectations, Trump's fortune has increased to $3.1 billion, up by $500 million from 2021, according to the Bloomberg Billionaires Index.
In a contentious day in court, he engaged in heated arguments over the valuation of his assets. The civil fraud lawsuit, filed by New York Attorney General Letitia James, has the potential to lead to substantial penalties amounting to hundreds of millions and the possible forfeiture of some of his most renowned properties.
The increased net worth coincides with the resilience of Trump's businesses amid a challenging real estate market. His relocation to Florida post-White House aligns with a thriving state, boosting the financial performance of two prominent properties—Mar-a-Lago in Palm Beach and the Doral resort in Miami. Additionally, revenues at his other golf courses have surged by over 50% since 2019.
Following the sale of his Washington hotel and the repayment of loans, Trump now holds a higher cash reserve and has reduced his leverage to the lowest level in the past decade.
"The organization has never been in a stronger or better position," asserted Eric Trump, the executive vice president of the Trump Organization, in an interview. "We currently possess the highest cash reserves and the lowest level of debt. Our standing is fantastic."
Bloomberg's wealth index has been determining Trump's net worth since 2015, utilizing data from ethics disclosures mandated for presidential candidates, public filings associated with significant real estate holdings, and information reported by staff.
The trial has brought forth thousands of pages of exhibits that offer a more comprehensive view of the performance of Trump's assets. In the 2021 statement of financial condition filed for the lawsuit, the former president asserted a net worth of $4.5 billion, consistently higher than Bloomberg's calculations. Meanwhile, Bloomberg's assessments have sometimes valued certain Trump properties more than what is claimed by the state of New York.
During his testimony, Trump asserted that the properties for which he's accused of inflating values were, in fact, undervalued. He argued that the premium added by his "brand" justified higher valuations. Additionally, he claimed that banks did not depend on his statements of financial condition when assessing loans.

"In the court, Trump conveyed, 'They just weren't a very important element in banks' decision-making process.' He added, 'And we'll explain that as this trial goes along.'"
Now, let's explore New York state's evaluation of four prominent Trump properties where the prosecution alleges fraud, juxtaposed with Bloomberg's methodology for assessing these assets.
Mar-a-Lago

It's accurate to assert that Trump's most renowned property today is no longer Trump Tower in New York but rather his Mar-a-Lago Club. This historic Palm Beach estate, originally built by Marjorie Merriweather Post in the 1920s, is now the residence he refers to as home.
The large resort has been in the spotlight for some well-known issues since Trump left the presidency. There were incidents like classified documents being stored in one of its bathrooms and claims that Trump shared secrets about nuclear submarines with an Australian businessman named Anthony Pratt – something Trump denies. The resort is also a significant part of Trump's fraud lawsuit.
Trump entered into agreements with Palm Beach County and the National Trust for Historic Preservation, limiting Mar-a-Lago's use to a club and relinquishing any development rights. As a result, Palm Beach assesses the property as a business for tax purposes.
In 2021, the county valued it at $27.6 million, which is lower than comparable residential properties. New York State contends that this assessment should have been the basis for Trump's valuation.
According to Liza Pulitzer, a real estate agent at Brown Harris Stevens and a native of Palm Beach, New York's estimated value was surprising to the real estate community and anyone familiar with the island and its property values. She suggests that it could potentially sell for $500 million or more if a buyer sees it as a single-family residence.
However, it's important to note that its current zoning doesn't permit such use, although Trump can reside there by exploiting a loophole designating himself as an employee.
Trump's legal team brought in an expert witness who contended that a prospective buyer could adopt a similar approach. The argument was that if the buyer objected to the idea of sharing the property with others, they could potentially limit the club to a membership of just one person. However, it remains uncertain whether Palm Beach would permit such a change without altering its zoning status.
In the past, Mar-a-Lago wasn't a significant source of revenue for the Trump Organization, but there appears to be a shift. According to Trump's latest ethics disclosure, it generated around $41 million in revenue last year, a notable increase from the $21 million reported in 2019.

Bloomberg appraises Mar-a-Lago at $240 million, considering both comparable residential property sales in the vicinity and its value as a business, acknowledging some uncertainty about its future designation.
However, not everyone shares this uncertainty. Eli Beracha, the director of the Hollo School of Real Estate at Florida International University, believes that if the city and county permit it, there's no reason why Mar-a-Lago couldn't be transformed into a full-time private residence.
Trump's Fifth Avenue penthouse
Trump's valuation (2021): $US131.3 million, Bloomberg valuation (2023): $US40 million, New York valuation: No current estimate available
For four decades, Trump's penthouse apartment at Trump Tower has played a crucial role in shaping his public image. Consequently, it comes as no surprise that one of the world's most adept users of hyperbole tended to exaggerate its size throughout much of that period.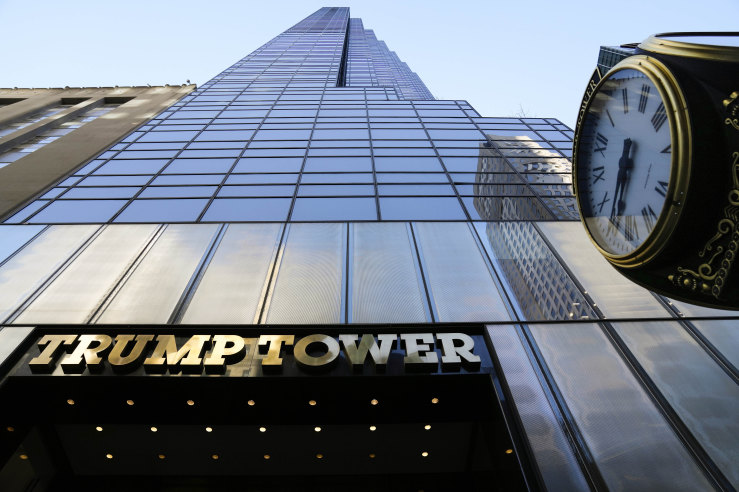 Trump's penthouse apartment at Trump Tower has been an integral part of his image for 40 years.CREDIT:AP
vFrom 2011 to 2016, Trump assessed his apartment as 30,000 square feet (2,787 square meters), nearly three times its actual size of 10,996 square feet. Consequently, New York State arrived at a valuation during those years that was approximately one-third of Trump's estimation. No more recent estimate from them has been disclosed.
It wasn't just the exaggeration of space that raised concerns. In the period between 2014 and 2015, Trump elevated the value of the apartment from $200 million to $327 million. The prosecution contends that this adjustment was a tactic to conceal a decline in the value of another one of his properties.
In a September ruling, Judge Arthur Engoron stated, "A discrepancy of this order of magnitude, by a real estate developer assessing his own living space over decades, can only be regarded as fraud."
Bloomberg assesses the property by examining recent sales at Trump Tower and comparable Manhattan penthouses. Although some opulent residences in newer buildings on Billionaires Row have been listed for over $100 million, they typically feature higher ceilings, modern finishes, contemporary layouts, outdoor spaces, and superior views.
A more fitting comparison could be a 9,450-square-foot penthouse in Olympic Tower, located five blocks south on Fifth Avenue, which has been intermittently listed for $35 million since 2016. Another reference is Carl Icahn's 14,000-square-foot penthouse at Museum Tower on West 53rd Street, listed at $35 million in 2019 before an attempt to divide and sell it as two separate apartments. Both were eventually removed from the market.
It's worth noting that Trump might command a higher price due to the association with his name.
"There could be a Trump premium, given that the potential buyer interested in that property is likely to be a Trump supporter," Beracha commented. However, it's also probable that the Trump association could deter some prospective buyers.
Trump Park Avenue

The residential condo tower on Manhattan's Upper East Side, previously known as the Hotel Delmonico, might not be among Trump's most renowned structures, but it has been implicated in notable asset inflation, according to the prosecution.
The value attributed to Trump is largely associated with unsold condo units owned by the Trump Organization, which are currently rented out. Some of these units have rent-stabilized arrangements, where tenants pay below market rates. Generally, such apartments are appraised at a reduced value due to tenants having the option to remain indefinitely, and in some cases, pass them on to their children.

In 2010, an appraisal from a real estate company assessed 12 rent-stabilized apartments owned by Trump, with an average value of $62,500 each. The subsequent year, Trump appraised them at $4.1 million each, a surge of more than 65 times. Trump has consistently valued stabilized apartments in the building at market rates, as reflected in his 2021 statement of financial condition.
Jonathan Miller, president of appraiser Miller Samuel, notes that rent-stabilized units with a positive cash flow are often valued at 15-25 cents on the dollar of the open market value, in contrast to single-digit percentages for those with negative cash flow.
Nevertheless, Trump's optimism was proven to be somewhat justified. By 2021, only five out of the initial 12 apartments retained their rent-stabilized status.
However, Trump's optimism was partially validated. As of 2021, only five out of the original 12 apartments maintained their rent-stabilized status.
The prosecution argues that the valuation of two additional non-stabilized apartments in the building was flawed. Trump allegedly overlooked an option held by his daughter, Ivanka Trump, allowing her to buy them at a price below the market value he used.
40 Wall Street
Trump's valuation (2021): $US664 million, Bloomberg valuation (2023): $US270 million, New York's valuation: No current estimate available
When assessing his prominent Lower Manhattan office tower, Trump consistently disregarded more conservative appraisals provided by professionals, according to New York State's argument.
For instance, in 2011 and 2012, a real estate company valued 40 Wall Street at $200 million and $220 million, respectively. However, Trump reported higher values of $524.7 million and $527.2 million for those respective years in his financial statements.
Bloomberg estimates the value using an approach based on the property's net income. Generally, commercial office valuations have faced challenges in the last 18 months due to increasing interest rates and a sluggish corporate leasing market.
However, 40 Wall Street faces unique issues. Tenant departures have led to a decline in occupancy from 98% in 2015 to 77% in June. Additionally, its net ope
rating income is only 61% of what was initially projected by underwriters.
The property is under a ground lease that will be recalibrated in 2032, either at 6% of the land value or 85% of its previous year's rent. With the current rent, this implies that the ground lease could surge from about $2.6 million to $30 million.
The outlook for the building's future is unfavorable, according to Ruth Colp-Haber, CEO of Wharton Property Advisors. Being a Trump property, it faces a diminished market appeal. If under new ownership, substantial upgrades costing hundreds of millions of dollars would be necessary for it to compete with neighboring buildings that have undergone extensive renovations.